Search
52 result(s) matching "UltraStudio Mini Recorder", (0.01 seconds)
Black Magic design - UltraStudio Mini Recorder and mac mini
Does somebody have experience using the UltraStudio Mini recorder from Black Magic?
I intend to buy a new Mac Mini with 8GB Ram and fusion drive. Then connect the UltraStudio Mini recorder to the thunderbolt so I can capture HDMI-signal from a camera.
I will use the HDMI-output on the Mac Mini to the projector.
Do you think the hardware spec is good enough to capture and record the camera and then replay it later in the show?
Best
Klaus K.
Hardware
•
N
Struggling with BlackMagic UltraStudio Mini Recorder
Hi
I have just bought a BlackMagic UltraStudio Mini Recorder. I am testing it using the output from another laptop. That is set to 1920 x 1080 on its HDMI output, and it recognises its attached to a Black Magic device.
I am able to record into Media Express, and madmapper demo will happily display the desktop from the other machine, but Izzy doesn't.
Live capture settings are shown in the attachment. When I click on Start Live Capture the format line in Sound Input gets filled in, and part of the channel 1 box at the bottom fills with black, these both disappears when I click on Stop Live Capture.
I am on a Mac running 10.10.2 Isadora Core USB 2.0.5.
Interfacing
•

latest driver for UltraStudio Mini Recorder from Blackmagic
Hello Everybody,
Can anyone help me with this? Where can I find the latest driver for UltraStudio Mini Recorder from Blackmagic?

It was working fine on Isadora.
Suddendly absolutely impossible to get the live input anymore.
Thank you for the help.
Jean-Marc

Interfacing
•
P
Missing 1080p30 option with Black Magic UltraStudio Mini Recorder
I've been using a Black Magic UltraStudio Mini Recorder as a sdi input in Isadora and it works very well. However one of the resolutions that is supported by the unit, 1080p30, is not amongst the choices under settings in Isadora. 720p60 and 1080i60 is there but not 1080p30?
In Black Magics own program 1080p30 is selectable so I wonder why not within Isadora, is this dependent on the Black Magic driver or something in Isadora?
I'm running Isadora 1.3f24 on Mac Mini.
Hardware
•
L
severe video sync issue
Thousand thanks for your replies!
I haven't done a support ticket yet, but will do soon. I put the image of the patch to explain the patch (and reproduce the issue), but please find the test patch here.
About the patch, there are four scenes, first (Q1) is empty, second (Q2) streams two camera sources and records both cameras and the stage, third (Q3) streams two camera sources and records only the stage, fourth (Q4) only streams two camera sources.
Now, I'm seeing the stutter (dropped/duplicate frames, see explanation in my first post) even with Q4 which is only streaming simultaneously the two cam sources. That should not overload Isadora, right?
I'm seeing the stutter also in Q3 that streams two camera sources and records only the stage. And that should not overload Isadora either, right? And investigating the recorded file, I can see that the stutter is real (going frame by frame for instance in QT7, and I used QT7 because there you can easily "play" the file frame by frame with arrow keys and see the time-code numbers).
And as told before, the stutter occurs (obviously) also with Q4. However, this scene was made only to exactly prove that the fault is NOT in the capture cards, because the captured camera streams are not stuttering (don't have dropped/duplicate frames) and play perfectly the recorded 720p50 for instance in QT. So, my goal is not to use this (Q4) to anything else than testing.
However, my goal is to stream simultaneously two live camera feeds, and simultaneously record the stage, and… – but not recording the individual cameras. But if the starting point of just streaming two simultaneous live cam feeds does not produce stutterless stage, it will ruin the goal. (In my test patch, you can also replace the live video streams with movie players, and the same issue occurs eventually – maybe not with the same length of cycle I described initially).
Why not BM UltraStudio Mini Recorders? Well, with Sony cameras, you can only get 1080i50 signal through BM Mini Recorder. Nothing else works. And I was explained couple of years ago that Sony and BM use "different kind of HDMI protocol". And that's why, for example, you cannot get even any true 1080p25 or 1080p50 from Sony through BM UltraStudio Mini Recorder. I can get a signal through BM Mini Recorder, when Sony cam video recording is set to 1080p25 or 1080p50, and in camera HDMI out set to interlaced (1080i50). BM does not accept any other signal from Sony HDMI. And from these signals BM delivers only 1080PsF25 or 1080i50. But then every second line missing – resulting to unsharp image (half vertical resolution) and therefore also edges not smooth. And this is unacceptable for me.
Yes, I know, Isadora 2.x is not compatible with Mojave, but I was forced to Mojave, because Apple replaced my previous MBP to a new one. However, because the combination seems to work in my machine, I wanted to test with that too. My tests were made with Isadora 2.6.2b3 on both MacPro and MBP.
Because the issue occurs in cycles, I would advice to make the test at least 10min long. So if possible, please test yourselves and let me know if you are able to reproduce the issue.
Thousand thanks in advance!
Lauri
Troubleshooting and Bug Reports
•
latest driver for UltraStudio Mini Recorder from Blackmagic
Hi,
I have just tested my equipment as it is a close match to what you have described. 
I am using a Sony A7rII DSLR with micro hdmi out to full-size hdmi input to a BM Ultrastudio Mini Recorder. 
The Mini Recorder is Thunderbot 2 and the Mac Book Pro 16" is thunderbolt 3 so I am using  2mtr thunderbolt 2 cable with an Apple thunderbolt 3 to thunderbolt 2 adaptor (I tried it with a USBC style to Mini Display Port adaptor but it did not power the Mini Recorder and did not work). 
I am running Catalina 10.15.7, I just installed the latest Desktop Video driver (12) from the Black Magic support site and installed. 
The Sony A7rII is set to PAL, MP4, 1920 x 1080 25p 16M. 
The BM desktop video setup is set to HDMI. 
Isadora Live Capture Settings is set to Driver: Blackmagic, Device: UltraStudio Mini Recorder, input: 1080i50, Resolution: Native. 
It is working for me. I hope you find a solution.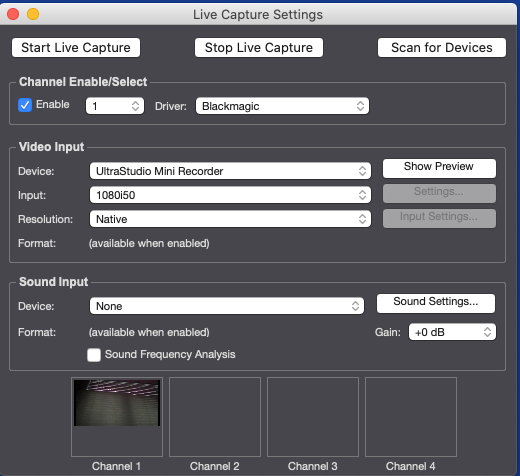 best wishes
Russell
Interfacing
•
W
Isadora 2.0 Video Capture - Expertise and Opinions Needed
Hi, for me capture is all about minimum latency. I have both the Thunderbolt Ultrastudio Pro and Mini Recorder and tested on 2013 MacPro (8 core / D700). Using Millumin, which utilises the BM API, I get 3 frame delay with the Ultrastudio Pro at 1080 / 60p = 50ms. Mini Recorder has 4 frame delay, but at maximum of 30p only = 133ms. I tested the Ultrastudio Pro with Izzy 2.0 and got 4 - 4.5 frame delay. I hope to test the Ultrastudio Pro with a genlocked source when I can get my hands on a 1080 / 60p sync generator.
Cheers
Tom
Troubleshooting and Bug Reports
•
J
4 HDMI sources MBP??
For switching a live video feed I have two Sony CX405 Handycams connected through HDMI cables into two separate Blackmagic Ultrastudio Mini Recorders to each of the two Thunderbolt ports on my Macbook Pro Retina (2012 model). I feed the projector through the HDMI port. It works great.
How could I use all available video channels in Izzy and connect 2 more HDMI cameras? Unfortunately the Mini Recorders don't provide an extra TB port for daisy chaining. I could use a Blackmagic Declink duo, mounted in a Sonnet Fusion TB expansion chassis which has two TB ports. But this requires either expensive SDI sources or HDMI to SDI converters. I would just like to use inexpensive consumer camcorders and 4x Mini Recorders. I'm aware of the fact that I possibly need to upgrade my computer as well if dealing with four HDMi sources.
Any advice?
Jacob.
Hardware
•
L
Multiple computers processing in one project
Hi,
I'm planning a bit heavier project that would probably need more than one computer to process, and would need to know how to connect these computers together. Let's say I would make part of the processing in one computer and then sending a video stream from that computer to another.
I suppose I could send the first processed video stream from a HDMI port to another computer via a UltraStudio Mini Recorder or equivalent. I tried this – just hooking computer's HDMI output via UltraStudio Mini Recorder to another computer – but the resulting image on the other computer was a lot darker than the original. Maybe this is not a "valid" method, but would someone have an idea How To…?
Thanks in advance!
How To... ?
•
F
Blackmagic Device Detected, but...
Thank you Mark.  I'm about halfway there.
I got the UltraStudio Mini Recorder to work with the security camera finally (and surprisingly, as it just suddenly started working out of the blue--maybe a bad cable or connection along the way) but the Intensity Shuttle still does not work.  
After speaking on the phone with Blackmagic support, I have learned that there is a now a USB 3.0 communication problem between the Blackmagic Intensity Shuttle and OS 10.11.3--and they don't know/can't say how long it will take to get fixed.
They claim that if I revert back to Yosemite, that both the the UltraStudio Mini Recorder and the Intensity Shuttle should both work.  I pulled up another computer which is running Yosemite and Isadora 2.2.1 and was able to get a live feed through the Intensity Shuttle into Blackmagic Media Express from a Sony IR camcorder, but when I close down Media Express and open Isadora, the feed goes black, both within Isadora and on the camera's built-in LED screen--and no I don't leave Blackmagic and Isadora open at the same time.  I did use the same setting in Isadora Live Capture Settings as was used successfully to connect through to the BM Media Express application (1080p30fps).  Thanks in advance for any/all further support.  
Interfacing
•