Search
40 result(s) matching "ndi", (0.01 seconds)
S
Large Quantity of NDI Outputs Causing Load Issues
Hello internet,

My apologies if this has been addressed somewhere else, but the search function was being very buggy for me.  Unusable on Firefox and barely usable on Chrome.

I am using Isadora to output to more stages than I have ever before.  The project calls for sending (40) 640x480 NDI streams out over a gigabit network to (40) Raspberry Pis, each connected to an individual CRT TV built into a huge wall.  I will be using Izzy to map a single video image over the wall of TVs.  So far I have tested the setup with (27) Pis.  Each NDI output is a separate stage defined in Izzy.  With this many outputs Izzy is lagging.  All I'm outputting is a simple test pattern I created consisting of a background color cycling through hues, a text draw and a few shapes.  Load hovers around 100% in Izzy, and framerate doesn't quite get to the 30fps I want, BUT the playback computer has plenty of overhead.  CPU, GPU and RAM loads are only about 25%.  The receiving Pis use about 75% CPU to decode on their end.  So, why is Izzy so loaded down when the PC has more power to give?  Any ideas on where the bottleneck is and how I could address the issue?
Playback PC:
Izzy 3.0.7
Windows 10 Pro
AMD Ryzen 3 3100
16GB RAM
NVIDIA GeForce GTX 1660
Troubleshooting and Bug Reports
•

Introducing Vingester - Web video to NDI app
I've been using OBS.Ninja and Syphoner to get remote video into Isadora, but have just found a nice alternative. Vingester will take a web URL and stream the video of the page via NDI, which can then be grabbed into Isadora with the NDI 4 Watcher actor. (is this still BETA?) if you have enough CPU you can add more streams in Vingester. Its faster, cleaner and more stable than using a browser.
Third Party Software
•

NDI preload, is it possible?
Hi everyone, 
when I change scene, the NDI watcher actor in the scene to come takes a second or two to get the stream to the projector, 
I tried to preload the scene in the one before but as I thought, preload works for medias and no video real time stream, 
of course I could put NDI watcher in an activated scene and use matrix send value to fade or switch the projector, 
but is there any other way to preload the stream to get it right when I activate the scene? 
all the best !
How To... ?
•
M
Make NDI Watcher source selectable from a control
Hello,
I would like to have the possibility to choose the NDI source of an NDI watcher plugin from a control without acting on the actor himself.
I'm creating a patch to control PTZ cameras and I would like to give the users (that don't have access to actors) the possibility to choose the video source relative to the PTZ camera they are controlling.
Thank you
Stefano
Feature Requests
•

Izza sending video over NDI
Interfacing
•
D
NDI flicker
Hi!
Have now used Isadora for a couple of remote performances, and completely loving the experience!
Just wanted to look into one issue I had when using NDI output (which has been needed a few times) -- still frames often have a tiny flicker. I wasn't sure if it was a frame rate thing or something, but decreaseing frame rate didn't seem to affect it.
It's quite subtle, and I'm sure it's not noticeable for an audience... but was hoping to get to the bottom of it, because if it's something I can fix on my end I'd love to know!
Here's a GIF zoomed in on some Izzy subtitles as an example (sorry for reduced quality, seems like the easiest way to demo):

I haven't had the issue in Spout, so I'm guessing its something about the switch to NDI. 

Many thanks and all best,
Django
Troubleshooting and Bug Reports
•
D
Multiple NDI Streams with Alpha!
Greetings! I have been a long time user of Isadora (since 2008) and I am currently working on a virtual production during the times of covid.
We are using keyed NDI feeds piped into Isadora and I am saving resources by doing the chromakey and crop before it reaches Isadora. Although I can see the alpha channel premultiplied in the stream out of the vid-gpu port, I am still having to apply the alpha tool to get the correct feed. Although I do nothing with the alpha tool, no setting changes on this actor at all. 
The issue I'm worried about is I am taking 7 (seven) ndi feeds at once, and by passing through the alpha tool there is a considerable load appearing on the machine (in the 85%+ range). I would love for there to be a way for the alpha coming out of the NDI v4 feed to be already be usable without the alpha tool. 
I can build the show and the system seems to be able to handle the load, but this feels like a bug perhaps.

Also, to maintain connection to the feeds, I have placed them in their own (Active at all times) scene, and I am broadcasting them to listener actors in appropriate scenes as necessary. I haven't seen this be a problem performance wise, but I am open to suggestion if this is terrible idea.
If needed I can post a patch, but just wanted to get some insight from this wonderful hivemind. I appreciate any assistance!
Thank you!
Troubleshooting and Bug Reports
•

NDI output, full or hx? And what about vs 3 or 4?
I want to start using the Stage NDI output. But at the end of the road I'll have to go back to HDMI (for my beamers). So I need a NDI > HDMI decoder. But what about the different types of NDI. Is Isadora sending NDIfull or NDIhx? And do I have to take in account that it could be different versions of NDI (3 or 4).
(You probably notice that I try to keep up with the NDI happening, but still lack a lot of insight)
Thanks
Peter
How To... ?
•
B
Zoom / NDI Video
For those making performances for Zoom...
Just noticed that the latest version of Zoom (5.2) now has a native NDI Video option when selecting camera sources. I have been using OBS Virtual camera as well as Mark's Syphon Virtual Webcam to output Isadora to Zoom. Now one process is removed. Selecting NDI from Stage Setup allows for direct NDI video access by Zoom. I am using Virtual NDI Input to select the correct NDI source (Isadora - Stage). Input from Zoom still does not appear to be NDI supported yet.

Re: [Community Effort: Get Zoom to Support Syphon / Spout](/topic/6657/community-effort-get-zoom-to-support-syphon-spout)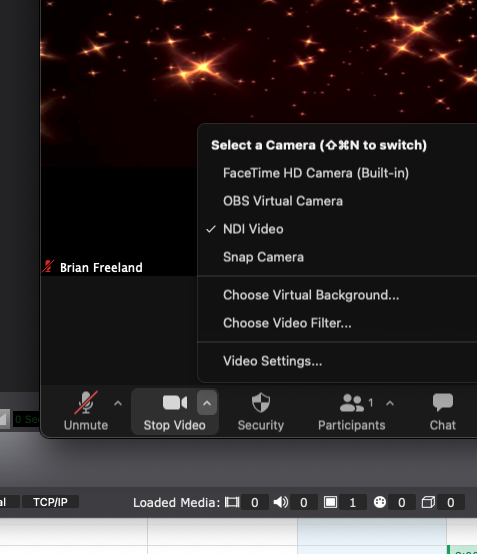 Off-Topic Discussion
•
?
[ANSWERED] How to Perform Crossfades with the NDI Watcher Actor
hello, we try to fade in a ndi feed from resolume and also from arkaos,
the feed is shown, in izzy with ndi watcher and projector on stage 1.
every thing is fine, but if we fade in any way in one of the mediaservers, it switch the ndi feed in or out at something around 0,7 % of fade in or out.
so we try to send a shader on stage 1, send it out with ndi from the stage setup and then receive it with ndi watcher , 
in this case we can do a little fade from 0 to 0,7 of with the intensity of the projector in izzy. in and out.
but it looks like a 5step resolutionblend or something like that.
also if we monitoring the blend(try) in a monitor in the control panel of izzy, with a linked control id,
we see a random flicker in the monitor all the time receiving a ndi stream.
aslo when we do no fading action.
so any possibilitys for us to show a fade in and out from a ndi source in isadora?
by the way, the other way works great, we can receive the ndi from isadora in all other applications with ndi in, without problems.
aslo ndi monitor, shows the fades which izzy do not show, at the same time as a fade.

thx
r.h.

How To... ?
•